Description
Pro-Inflammatory Cytokine Support*
Published, Peer-Reviewed Research
Comprehensive Formula
GMO-Free, Vegan, Soy Free
Current research has focused on the impact of pro-inflammatory cytokines on inflammation levels. During an infection, the body naturally produces pro-inflammatory cytokines as part of its defense mechanism. The healthy body balances pro-inflammatory cytokines with anti-inflammatory cytokines. However, if these pro-inflammatory cytokines (i.e. IL-1, IL-6, IL-8, IL-17, IL-23), Tumor Necrosis Factor-alpha (TNF-a), Nuclear Factor kappa Beta (NF-kß) continue in the "on position" and inflammation levels remain high, adverse health may be the result.
Clinically researched CytoQuel® has been developed to promote healthy cytokine activity. Based on the latest published research, CytoQuel® offers you and your patients an effective new tool in the quest for healthy inflammation levels.
The published peer-reviewed research on CytoQuel® demonstrated significant success due to the multi-ingredient formulation versus a straight curcumin product and to the selection of the nutrients at appropriately dosed levels. Each ingredient was chosen based on ingredient research indicating its ability to promote healthy cytokine function and absorption advantage over other nutrients.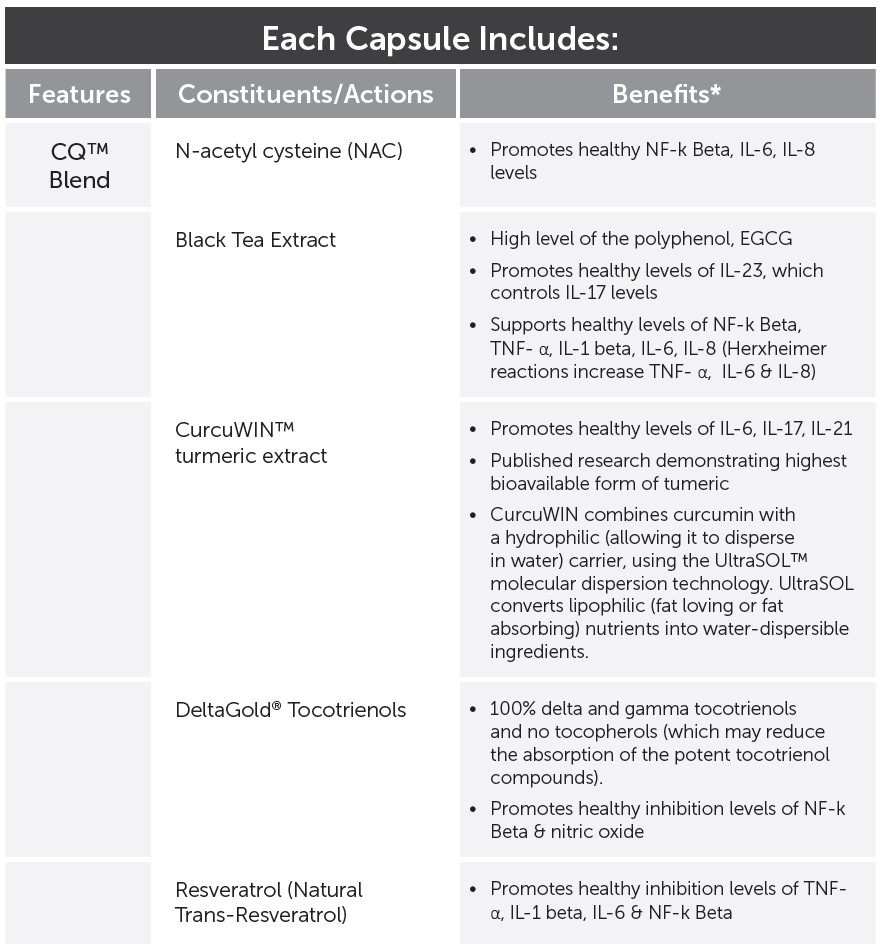 CytoQuel® is a registered trademark of Researched Nutritionals, LLC.  All rights reserved.